Paatigonit Song Lyrics by Papon (Zubeen Garg Music) – Song Lyrics Mediaa
পাইগনিট হৈছে এক কোমল সুৰ যিয়ে পিতৃ আৰু এজনী জীয়েকৰ মাজৰ চিৰন্তন সম্পৰ্কৰ বিষয়ে কয়। গানটো আৰু নিৰ্মাণ কৰা ভিডিঅ'টোত দেখুওৱা হৈছে যে কেনেদৰে বান্ধোনটো জীৱনৰ বিভিন্ন পৰ্যায়ৰ মাজেৰে ভ্ৰমণ কৰে আৰু সময়ে সময়ে বিকশিত হয়।

সমকামী সময়ৰ পৰা ধূসৰ দিনলৈকে এজন দেউতাক তেওঁৰ জীয়েকৰ সৈতে চিৰকাল থিয় হৈ থাকে আৰু ছোৱালীজনীয়ে ওইয়াৰ প্ৰতিদান দিয়ে। এই গানটো তাত থকা সকলো দেউতাকৰ বাবে তেওঁলোকৰ ৰাজকুমাৰীসকললৈ চাই আৰু তেওঁলোকৰ মুখত হাঁহি এটা ৰখাৰ এটা গান। এই গানটো সেই সকলো ছোৱালীৰ বাবে আৰু যিসকলে তেওঁলোকৰ দেউতাকৰ বাহুত শক্তি, উষ্ণতা আৰু সকাহৰ অনুভূতি বিচাৰে – তেওঁ এই মুহূৰ্তত পৃথিৱীত খোজ কাঢ়ি আছে নে নাই সেয়া গুৰুত্বপূৰ্ণ নহয়।
[Translated : Pygnit is a soft tone that talks about the eternal relationship between the father and a daughter. The song and the video made show how the bond travels through different stages of life and develops from time to time.

From gay to grey days, a father stands with his daughter forever and the girl reciprocates. This song is a song for all the fathers there looking at their princesses and putting a smile on their faces. This song is for all the girls and who want a sense of strength, warmth and relief in their father's arms – it doesn't matter if he is walking the world at the moment.]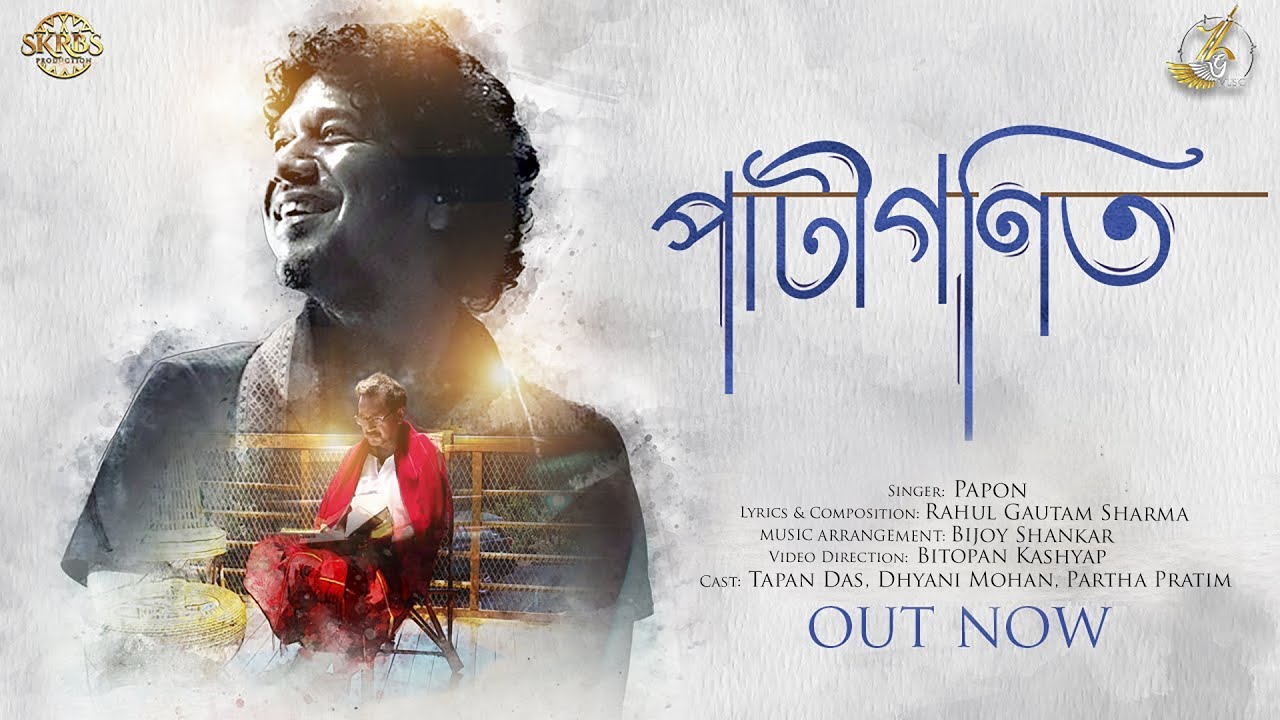 | | |
| --- | --- |
| Singer | Papon |
| Mixed and Mastering | Diganta Bordoloi |
| Music | Bijoy Sankar |
| Song Writer & Composition | Rahul Gautam Sharma |
Paatigonit Lyrics In Assamese :
সৰু সৰু শৱদে যে
চিঞৰি মোক আজি আঁচোৰে
মই কোন তুমিনো কোন
নেপাওঁ বিচাৰি একোকে
ধপধপনিৰ শেষ অগনিত
ঢিমিকি ঢিমিকি ঢিমিকি জ্বলিছে জোন
ৰঙা নীলা বেলুনে
ঈষাণে-বিষাণে মোৰ
উৰি উৰি বিচাৰিছে আপোন কোন (মোৰ)
আকৌ এবাৰ অ আ ক খ
এৰিলোঁ য'তে তাতে অনাদি
খিৰিকি খুলি খুলি চা
বাহিৰত হেঁপাহৰে হুচৰি
গভীৰত জুমি জুমি চা
ধেমালিৰ কিনো যে কিৰিলি
দেউকি যে জপনা
ঠেউকিতে লহমা
খেপিয়াই জপিয়াই বিচৰা
লানি লানি শাৰী
শাৰী পাতি পাতি
পাটীগণিত কিয় ইমান অঁকৰা।
____×____
Paatigonit Lyrics in English :
Xoru Xoru Xobode Je
Siyori muk aji asure
Moi kun tuminu kun
Nepao bisaari akuke
Dhopdhopnir xekh ogonit
Dhimiki Dhimiki Dhimiki Jolise Jun
Ronga nila beloone
Eekhaane-Bikhane Mur
Uri Uri bisarise aapun kun (mur)
Aakou aabar O Aa Ko Kho
Arilo Jote Tote Onadi
Khiriki Khuli Khuli Sa
Bahirot Hepahore Husuri
Govirot Jumi Jumi Sa
Dhemalir Kinu Je Kirili
Deuki je jopona
Theukite lohoma
Khepiyai Jopiyai Bisora
Laani laani xaari
Xaari pati pati
Paatigonit Kio eman Okora.
____×____
Paatigonit Video Song 👇
Extra Details :
Produced by: Sepon Kendriya Rongali Bihu Sanmilan(SKRBS)
#Paatigonit #Papon #ZubeenGargMusic
Song: Patigonit
Singer: Papon
Lyrics & Composition: Rahul Gautam Sharma
Music Production and Programming: Bijoy Sankar
Guitar: Rupam Sarmah, Kaifi Hamza Ahmed
Woodwinds: Anjan Medhi
Violin: Nupur Kashyap Hazarika.
Mixed and Mastering: Diganta Bordoloi
Audio Studio: Kirili, Audioholic
Concept & Direction: Bitopan Kashyap
Cast: Tapan Das, Partha Pratim, Dhyani Mohan.
Supporting Cast: Rimi Khamtai
Director of Cinematography: Biplab J.Doley.
Editing, VFX and Colour Grading: Dhruva J.Bordoloi.
Aerial Cinematography: Joydeep Paul
Assistant Director: Surajit Phukan
Creative Director: Rahul Gautam Sharma
Costume Design & Styling: Garima Saikia Garg
Make-up: Bijiyeta Patgiri.
Assistant Make-up: Billy Rawat
Production Head: Manoj Mishra
Production Manager: Rhitu Prayag Garg (Mon)
Local Co-Ordinator: Hrishikesh Boruah.
Single Art: Rituparna Bora.
Camera & Light team: Sankar, Mridul,Sirajul Ali, Bikram Chetri,Dilip.
Zubeen Garg Music (Record Label team): Siddharth Sharma, Riddip Das
Special Thanks:
All the members of Sepon Kendriya Rongali Bihu Sanmilan(SKRBS)
DGM (Admin & Welfare)
Indian oil corporation, Assam Oil Division Digboi.
Mr. Biren Bhatta, Digboi
Mr. Abhijit Baruah and Family, Digboi
Mr. Anam Hussain, Joint Secretary AOC Labour Union, Digboi.
Mr. Bhaben Kheruar.
Mr. Arup Gogoi, Digboi
Mr. Pankaj Baruah, Digboi Tourist Lodge
Mr. Samujjal Bhatta, Digboi
Digboi Club.
Golf Club Digboi.